General details

Fettes College, Edinburgh, Scotland
Fettes College is a leading co-educational boarding and day school situated close to the heart of Edinburgh.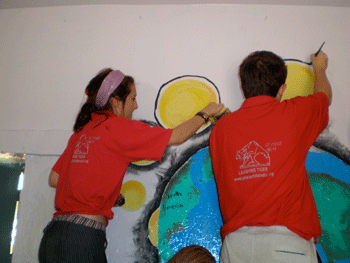 Fettes students help paint a reading room wall
For two weeks in July 2008 we were joined by 25 students and 4 teachers – our largest group yet – from Fettes College in Edinburgh, Scotland. Since the group was so large, we split them up and were able to complete projects at two rural government schools. Both groups painted colourful Reading Rooms for the schools and also spent two days doing cultural programs with the students, including learning a dance that the Indian students and Fettes students performed together on the last day.
In addition to their work, the students from Fettes also participated in evening programs, including an Indian night, a trip to a Bollywood film, an exploration of Bangalore's nightlife, and shopping excursions in town, as well as a 3-day trip to the eastern coastal town of Mamallapuram.
A few of our partner schools:
Oppsal School, Oslo - Norway
Impington College, Cambridge - UK
St. Charles' Caltholic School, London - UK