General details

Harris Academy, Crystal Palace, London
JULY 2008
In July 2008 we were joined once again by a group of students and teachers from Harris Academy, continuing their partnership at the Muthrayanagara Government School.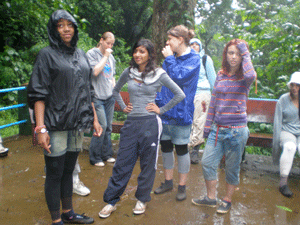 Harris Academy students on a Jungle exploration!
The group wanted to host a school-wide Sports Day for the students, so to make that happen the days leading up to it were spent digging up weeds, leveling out the dirt patch that was previously being used as a sports field, digging a long jump pit, and moving cement blocks for a volleyball court. At the end of the week we held a Sports Day, complete with running races, a long jump, an obstacle course, and a lesson in rounders, which was a huge success with the children. All of the children received gifts for participating, with the winners of the individual events receiving medals and certificates.
To culminate their trip the group spent 3 days visiting Mysore and trekking in the rainy hills of Coorg in south Karnataka.
JULY 2009
In July 2009 students and teachers from Harris Academy returned for their third visit to Peace Child and the Muthrayanagara Government School. It had previously been noted that the floors in the classrooms were in poor shape, so the Harris group spent 5 days digging up the previous floor and helping to lay a new one.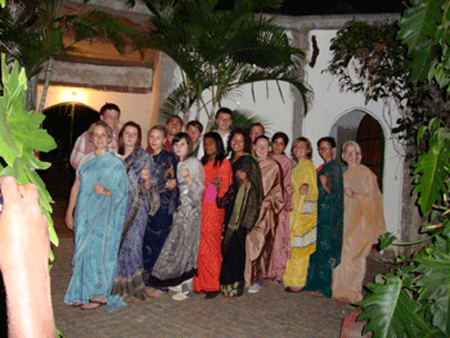 Dressed up in Indian clothes on the cultural night
Because of the group's efficiency, they were also able to paint an outside wall of the school and dig up stones from the sports field. At the end of their time at the school, we held a sports day with the children where they were able to participate in many different races.
The 2009 Harris group also enjoyed evening programs of Indian night, a trip to a Bollywood film, a night out in Bangalore, and shopping excursions. They spent the traveling portion of their trip visiting Mysore and trekking in the Coorg region of southern Karnataka.
A few of our partner schools:
Oppsal School, Oslo - Norway
Impington College, Cambridge - UK
St. Charles' Caltholic School, London - UK